Strategy
B2B marketing companies focus on the interests and needs of other businesses in contrast to the interests of individual consumers. Our B2B Marketing Services San Francisco marketing strategies identify potential customers and help to create relationships with them. We also aid in implementing the marketing plans and tracking the progress of campaigns to identify areas of improvement.
Examples
Some examples of B2B companies are:
A hardware company that sells its products for the supply chain of another company
A marketing company that helps to improve advertising strategies
A staffing company that recruits for other companies
A training and development company that trains the workforce of another business
How we work
Global Search Council's marketing services focus our digital marketing strategies on these elements:
Our team is result-driven and ROI-focused.
Thorough understanding of your industry and what makes it unique.
The target audience expresses an interest to be informed about the company and the solutions they offer.
Customized marketing plans that align with your business goals.
Transactions and contracts are expected to be long-term and sustain cooperation.
Our Process
When marketing to other businesses, it is important to understand their needs and how your company can help them meet those needs. B2B marketing companies take into consideration several points when advertising to other businesses. As the Top B2B Marketing Agency in San Francisco, our dedication to the vision of our clients and our team's expertise makes it easy to work with a business of any size to create a strategy that targets their unique needs.
B2B Marketing Services in San Francisco
Our marketing team is experienced in creating successful marketing plans for businesses of all sizes and industries. Whether you need a comprehensive marketing plan or just want to improve your website's search engine ranking, our team can help. We stay updated about the latest changes in the marketing industry so that we can provide you with the best possible service.
We make sure our marketing strategies are viable in all digital devices, with 97% of Americans now owning a cellphone of some kind
As a marketing agency, our main goal is to keep your company as visible as possible, whether it's online or within your local region. We not only specialize in B2B marketing strategies but also offer services that can help you gain more visibility on a local level for your business.
As the Top B2B Marketing Agency in San Francisco we offer services contingent on current data and trends in the market. Our experience with developing marketing programs for companies of all sizes and industries provides us with a unique perspective when addressing your company's needs. Our client base is vast, as our services are not limited to one specific area.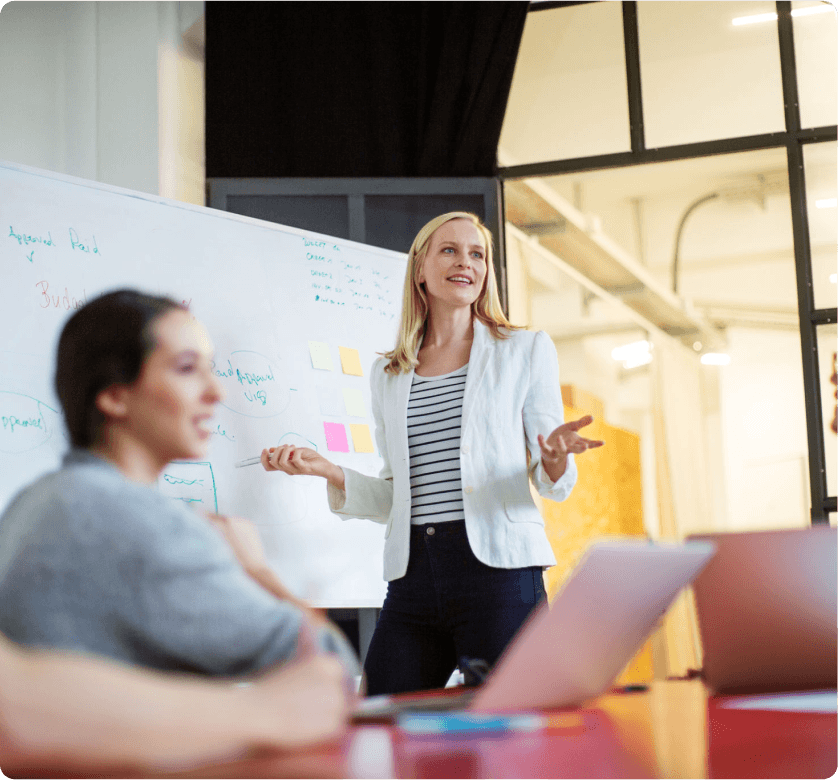 Metrics
Following are several metrics used to measure ROI:
Sales Pipeline
Conversion RatesCustomer Acquisition
Brand Awareness
Conversion Rates
Business Profits
Leads Generated
Expenses Per Campaign



As an experienced marketing agency, we present numerous opportunities for achieving your company's marketing goals with consistent and measurable results. We take a data-driven approach to marketing and our services are customized for each client.
On the basis of these metrics, Global Search Council offers the following marketing services
Increase Brand Awareness
Increase Conversion Rates
Launch New Products or Promote Existing Products
Lead Conversion And Upsell
Talent Recruitment
Build Brand Loyalty
Build Customer Engagement
Set the Company as an Industry Expert
We understand that a flawed marketing strategy can hinder your business's growth and harm its performance, which is why we are dedicated to providing our clients with high-quality services.
Our Digital Marketing Process
With proper planning and execution, we utilize a variety of tactics and strategies to reach your targeted audience and establish brand awareness while including integral and well-defined principles.
Our B2B marketing process involves the 3i principles of marketing:
Initiate
Iterate
Integrate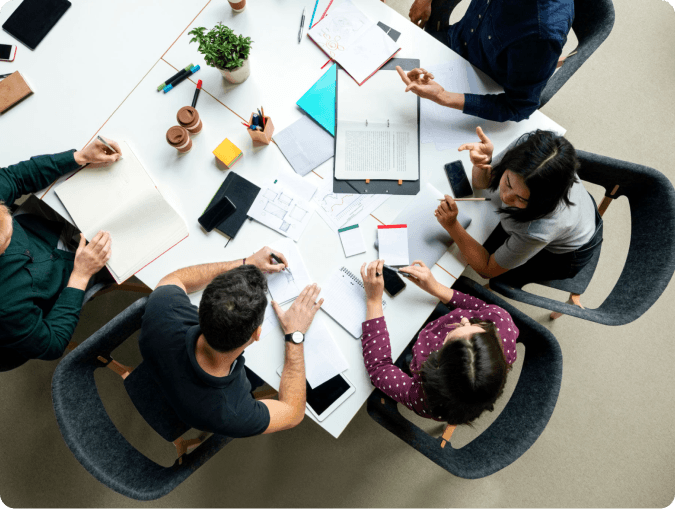 Identified below are the key digital marketing processes
we follow to improve businesses
Identify Your Customers
Your customers' age demographic, interests, the products they have tested out, the information they are looking to gather, and information gathered through past data from your campaigns will all influence the way we strategize for your business. With the data, we draw up an ideal customer portfolio and build a strategy around it
Analyze Competitor Performance
Knowing your competitors' marketing strategy, their communication plan, and how much money they are spending is important for knowing what will work best for your business. We monitor competitors at a macro and micro level to identify trends and opportunities for you. The plan is put into action through ideal channels for reaching your customers
Chart out Business Goals
Establishing a benchmark for your business allows us to assess your performance and what you hope to achieve by using analytics. A well-defined goal helps us draw up a marketing plan to establish your business as an industry leader
Map out the Marketing Strategy
A comprehensive marketing strategy is fashioned with the collected data and is tailored to address your specific needs. The strategy is aimed at acquiring and retaining customers while achieving your business goals
Testing and Data Collection
This stage involves A/B Testing and tag management, which are important for understanding how customers interact with your website. By tracking user behaviour and reactions to various changes and collecting data on their preferred form of interactions, we can further improve the customer experience and prepare it for launch
Data Analysis and Campaign Performance
The implementation of a strategy is not the end-all and be-all, we constantly update and analyze the data to measure how well it is performing. The performance of a marketing campaign is gauged against the objectives set for it, and any necessary changes are made midway to improve its effectiveness. Frequent data analysis can help your business increase the number of visitors to conversions
Benefits of Working with a B2B Digital Marketing Agency
Increase In Sales
B2B digital marketing can result in increased leads, traffic, and conversion rates. It can also help businesses achieve higher profits by expanding their reach to new markets and selling more products/services to current customers. Having no online presence can lead to losing customers to competitors.
Huge Returns on Investments
The investment made on B2B digital marketing is much lower than other forms of advertising such as television and print media, which often require a large amount of money upfront. Digital marketing is inherently cost-effective for businesses because it helps them reach their audience at lower costs compared to traditional methods.
Effortless and Efficient Data Metrics
Digital marketing provides an easy way to measure performance against your business goals by providing insights into how many visitors are converting. It also allows them to easily scale up or down based on their requirements, which makes digital marketing the most efficient marketing technique available today.
Increased Brand Awareness and Loyalty
Digital marketing can help businesses in increasing brand awareness and loyalty. It helps create and establish a strong connection with the customers and keeps them updated on new products, services, and offers. This builds trust and strengthens the customer relationship.
Clear Objectives
A well-defined goal is essential for a successful marketing campaign. Without it, the campaign becomes aimless and lacks direction. Establishing objectives provides a roadmap for the campaign and helps us track its progress.
People Prefer Our Company Because We Provide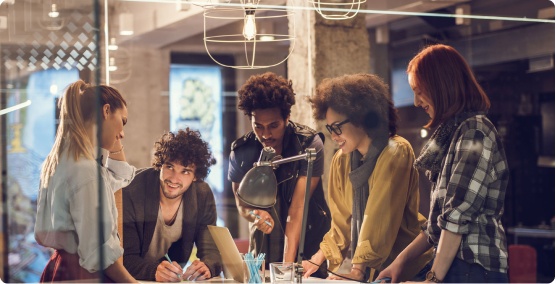 Creative Teams and resources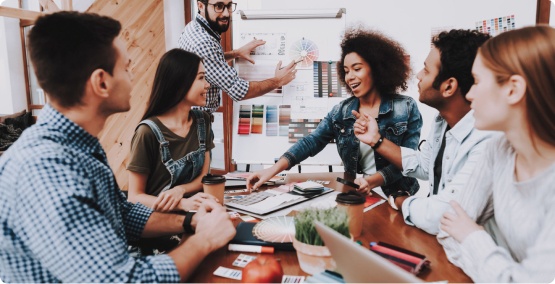 Efficient and Original Ideas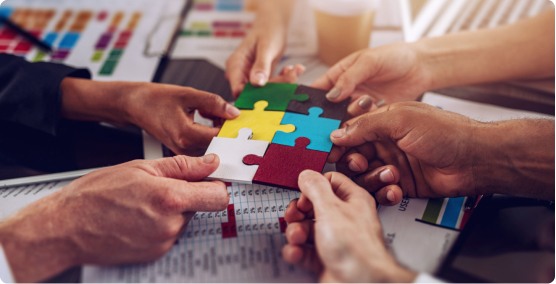 Cost-Efficient solutions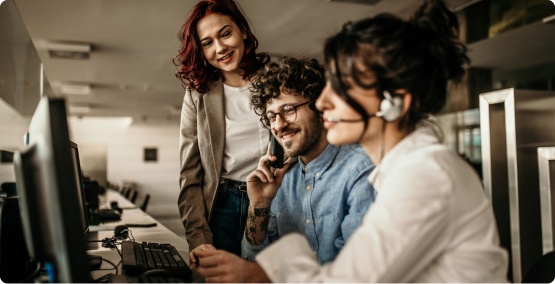 Round the clock Online Support
Wish to get in touch?
Our team is always there to listen to you!
Contact Us