A community to discover your SEO's best practices.
Google ads are one of the most effective forms of online marketing right now. If you would ask us where to invest your money to gain a "quick" digital growth, our answer will be "Google Ads."
Google Ads, formerly called Google AdWords, is one of the most effective ways to gain new customers and grow your business. Google claims that advertisers make around $8 for every 1$ spent on Google ads.
Google is the most popular and the most used search engines where more than 3.5 billion search queries are performed every day. The Majority of Google revenue comes from Google ads. According to Investopedia, Google's 162 billion dollar revenue in 2019 came from its advertising service, Google Ads.
Many companies are using Google Ads in order to gain quality traffic and leads to their website. Why do you need to use Google Ads? Because your competitors are using it, thousands of business around the world are using it, and you are missing out on a lot of potential customers.
If used in the right way, Google ads can enhance your digital presence and can give you a fantastic ROI. However, a wrong campaign in Google Ads can waste a lot of your money and time. Today, we are going to show you the proper way to use Google Ads and some best practices associated with it.
Let's first talk about the importance of Google Ads. The first question that comes to the mind of many newbies in the industry is why we need Google Ads when we can do SEO of our site for free? Let's answer this question first in Detail!
SEO VS Google Ads
SEO can help your page rank on the organic search result of the Google Search. SEO is free, and you don't need to pay anything to rank high on the organic results.
Google Ads are paid online advertisements, which appears next to the relevant results on the SERPs. One thing to note here is that Google Ads doesn't help in SEO, and it doesn't improve your organic ranking. Google has already stated the following reason for it: Google's first responsibility is to provide Search users with the most relevant possible results. If businesses were able to pay for higher rankings in the search results, users wouldn't be getting the information they're looking for.
If Google Ads doesn't affect the organic ranking, then why do you need Google Ads? There are multiple reasons to use Google Ads over SEO, here are some of those:
Organic results are not the only thing that is present on the search engine result page of Google. Google Ads and SERPs Feature often take a lot of real estate in the SERPs. Google Ads appear at the top of the search engine result page, and the probability of getting a click seems much higher.
SEO takes time, a newly created website takes at least six months to rank decently on the search engine while for competitive keywords it can take more than a year to rank on the first page of Google. While with Google Ads, you can rank for any keyword within an hour.
We hope you may have already understood the importance of Google Ads. However, just knowing the importance alone won't help you. Wrong placement of Ads with a high budget can be a disaster. We are going to show you a detailed guide on how to set up a Google Ads account, how to use it, and thing to avoid while setting up a campaign. Follow us ahead to find out!
How to Setup a Google Ads Account
"You can skip this section if you already have a Google Ads account."
You need to set up a Google Ads account in order to advertise on Google. Setting up a new Google Ads account is quite easy, and it takes a few minutes to create it.
You need to have a Gmail account in order to create a Google Ads account. Go to "Google Ads Homepage" and click on "Get Started" option located at the top right corner of the web page.
Sign in through your Gmail account, and then you will be asked to enter some information to complete the signup process on Google Ads. After signing up, you can set up billing details, so Google can accurately bill you monthly.
Step by Step Guide to use Google Ads
Do note that it is a short and straightforward guide to use Google Ads that you can start using instantly. It doesn't cover everything related to Google Ads, but you will learn everything you need to know to run a campaign on Google Ads. Without wasting any time, let's learn how to use Google Ads.
Open "ads.google.com" on your web browser and click on "Start now." Now, click on the "Switch to Expert Mode" option located at the bottom of the webpage.
Before going further, you need to know that your first ads on Google might not be your best ads. Even the best marketers in the industries know that the first couple of ads can result in a failure, that's why they experiment ads with Split testing and A/B testing.
Now, you will be redirected to a new screen. Click on "Website Traffic" and then "Search" option available on the webpage.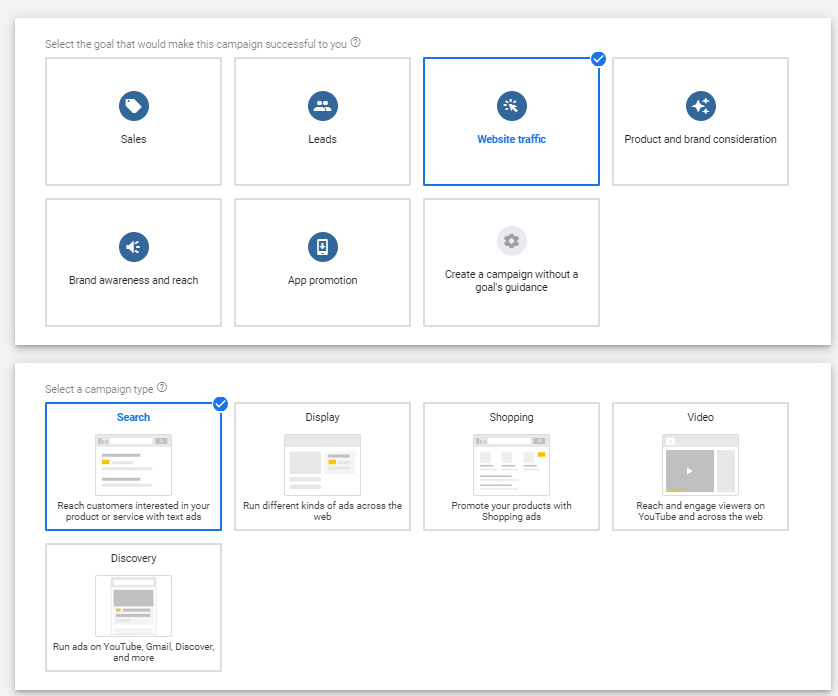 With this option, our web page will be appearing at the top of the search engine for a specific keyword. The goal of this campaign is to bring traffic on our website.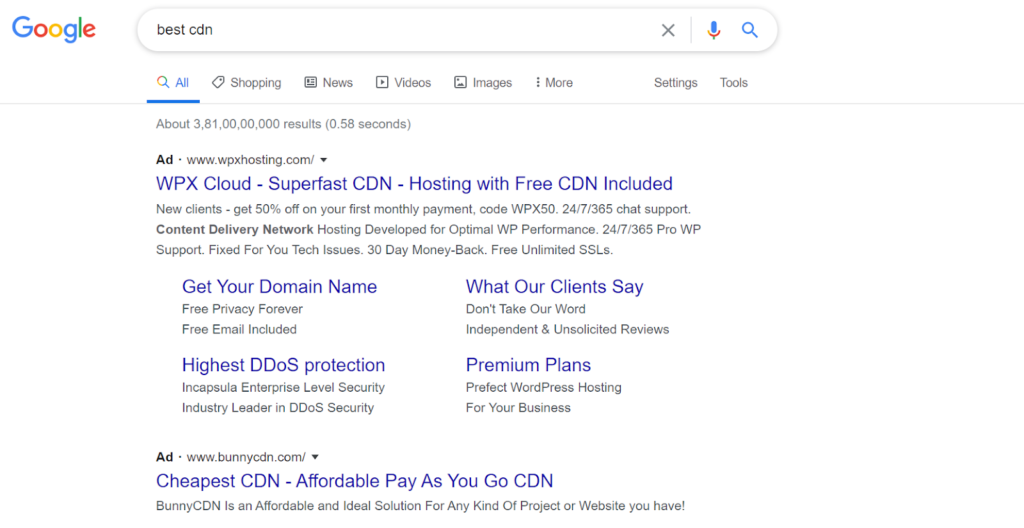 Now type your "business website" in the required box and click on "Continue."
Enter your "Campaign name" and unclick on the "Search Network" and "Display Network," if you don't want your ads to show outside Google.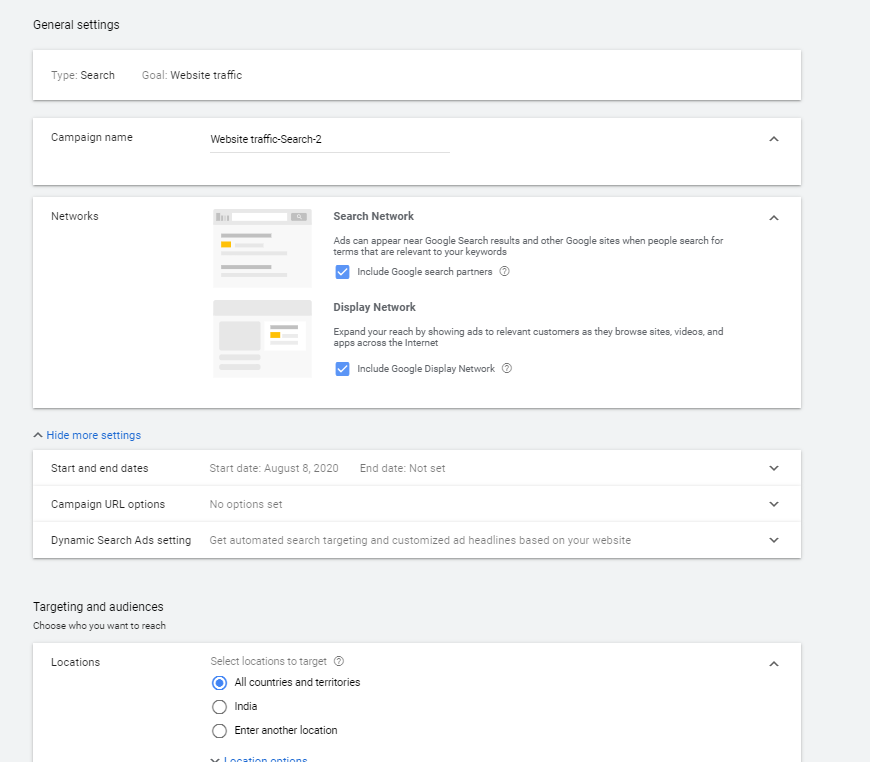 Click on "Show More Settings" and enter the Start and End date of your campaign.
If you don't set up the end date, then Google will continue running ads and charging you until you don't stop it manually.
Enter your targeted location in the "Targeting and audiences" section. In the next section, you can select the language that your customers speak.
Now, enter your daily budget in the "Budget and bidding" section.
You can then select a maximum cost per click bid limit for your campaign.
Google Ads is Google's Pay-per-click (PPC) advertising solution, where you pay a certain amount of money to publishers when the ad is clicked.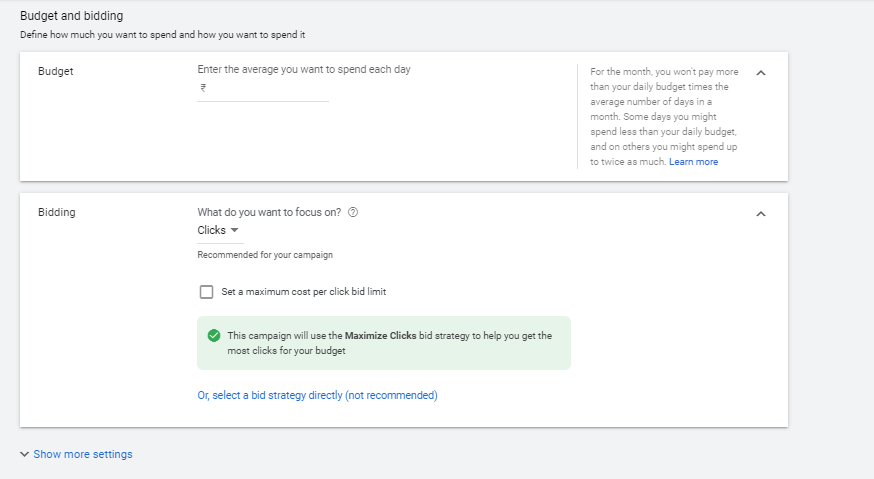 Now Scroll down and click on "Save and Continue."
We have just setup our campaign, now we are going to create an ad group.
You need to enter "Keywords" on the new page that you need to target for your advertising.
Do note that Keywords selection is extremely important.
You can use Google Keyword Planner to find out some great keywords to target. You need to consider CPC, Volume and Competition of the keyword before targeting it in the ad campaign. Other than Google Keyword Planner, UberSuggest and Spyfu are great tools that you can use to find out your PPC keywords. Here's a great guide on how to use Google Keyword Planner to find out keywords for your campaign.
After finding your targeted keyword, put all of them in the "Keyword Box." Now your page will be displayed for any term related to these keywords. If you just want to show Ads specifically for these keywords and not for any related terms, then you can add "[" "]" around the Keyword.

You can find "Daily estimates" report related to your keywords and targeting at the right section of the page. Now scroll down and click on "Save and Continue."
We have set up our Ad Group. Now, we will create the "ad" in the next process.
Now, enter attractive "Headlines" and "Descriptions" of your ad in the following sections.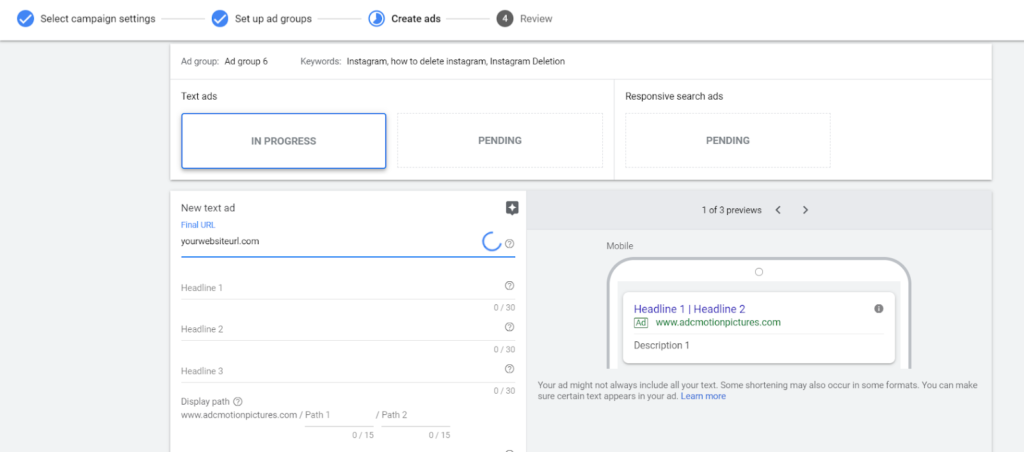 Click on "Save and Continue." If you have already set up your billing details, then your ad will be submitted, and it will soon go live after the review process.
Done! You have successfully created a Google Ad Campaign.
Common reasons why your Google Ads aren't working
If your Ads on Google are failing continuously, then you need to change your strategy. Here are some of the common reason why your Google Ads may be underperforming.
Wrong Keywords
If you are targeting wrong keywords for your ad campaign, then you may be wasting your time and money with Google Ads. Maybe the keywords you are targeting is too broad. Google will place your ad Infront of many irrelevant audiences, and your campaign will generate fewer clicks. Your targeted keyword can have a high CPC that may have been out of your budget, and it ended your campaign budget quickly.
Selecting the right keyword for your ad campaign is crucial for your success in paid marketing.
Poor Ads
Even if you have targeted a right keyword, but your ad doesn't match the searcher's intent, then you won't be generating enough clicks as per your ad budget. Your headline and ad copy need to be perfect in order to generate clicks on the ads.
Bad Landing Page
Even if you managed to gain clicks on your website, but your landing page isn't good, then your audience will soon bounce back from your webpage. Your Landing page should be optimized for the conversions.
Conclusion
Google Ads are one of the best investments you can make to enhance your digital growth. If used correctly, it is one of the best weapons to grow your business online. Your first few campaigns wouldn't be best, but after each campaign, your ad placement will eventually improve.
We recommend experimenting with Google Ads with low budget campaigns before placing a high-budget ad campaign.