Search Engine Optimization
Search Engine Optimization is the process of getting your website to rank at the top in search engines for key terms and phrases relevant to your business. Ranking high can mean more organic traffic, which leads to more customers. In the age of the internet, companies are forced to adapt to survive, and search engine rankings are important for business success. SEO is the foundation of internet marketing. It's how you get your website seen by your target audience, so it's a must-have for any company.
Need for SEO
All businesses, irrespective of the type of industry or the size of the firm, can benefit from a strong online presence. Our company, Global Search Council is one of the leading SEO agencies in Indianapolis that specializes in getting your website to the top of search engines. We have years of experience working with companies across a wide range of industries, regardless of their size.
Who we are
We are SEO specialists who will work tirelessly to get your business where it needs to be. We offer organic search engine optimization services, pay-per-click advertising, social media marketing, email marketing, blog creation and management, online reputation management, website design, and development services.
What we do
Our SEO strategies are customized to each client's individual business needs. As an agency that puts the customer first, all of our clients receive full transparency when it comes to analytics reporting. Our clients will be able to see how their website is doing at all times. We use a variety of techniques to get the best results, including link-building strategies, keyword research, and conversion rate optimization services.
Our Unique SEO Process
Our SEO agency in Indianapolis begin the work by thoroughly analyzing your business and its industry. We'll take a look at your firm's website, search engine rankings, social media visibility, industry news, and more. Our goal is to create an actionable plan for increasing your visibility online. This will include examining the competition, so you know what they are up against. We take a very close look at the type of people who would potentially become your customers. Then we determine which keywords to target based on these factors.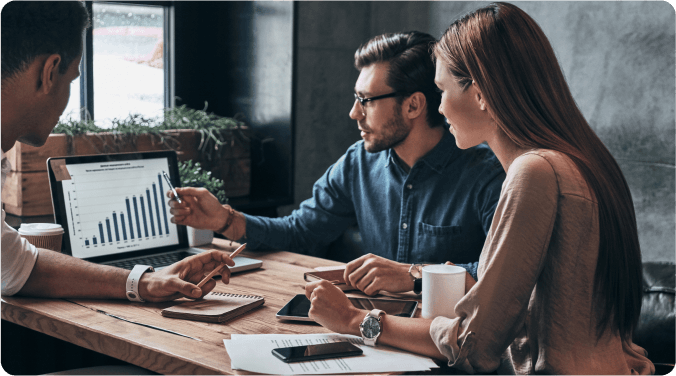 The next step is to implement our keyword research strategy. Our SEO experts will find the most relevant keywords, phrases, and topics that your ideal customers are likely to search for when they look for your products or services. We then optimize your website and content for these keywords and phrases. This part of our process involves A/B testing to get the very best results.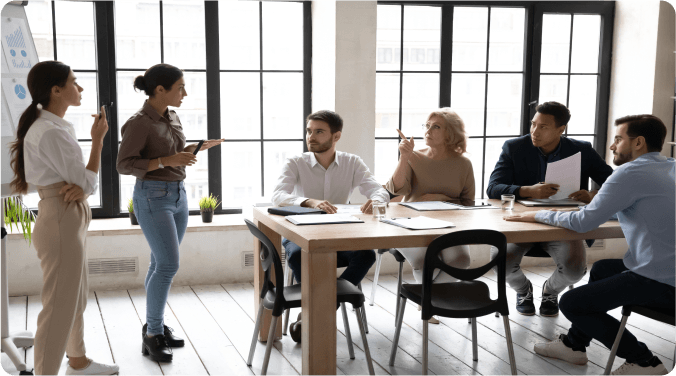 After we get your website optimized for target keywords, we focus on making the content itself as high-quality and valuable to readers as possible.
This involves a variety of techniques, including:
Website development and optimization
Content writing
Social media optimization
Blog and press release
Link building
Monitoring Results
Guest blogging outreach and promotion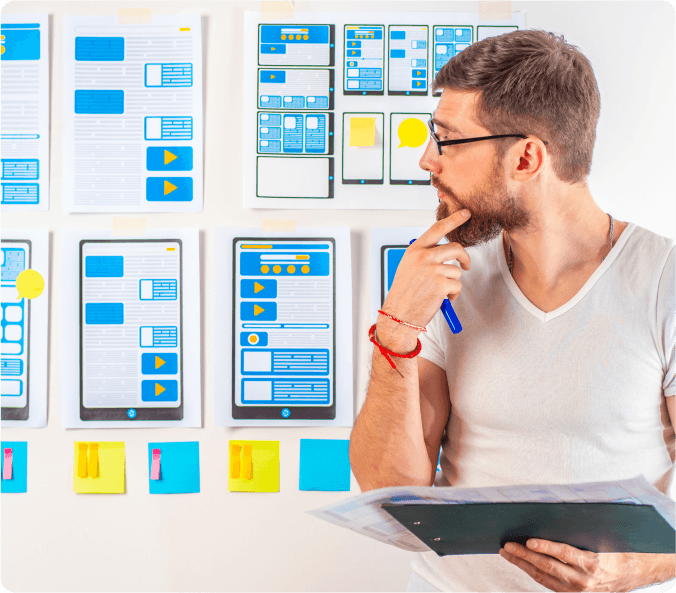 Arguably the most important part of any SEO strategy is off-page optimization. We get your business lots of high-quality backlinks through blog posts, press releases, and guest blogging. Our SEO team is also experienced in social media marketing and management. We can help you build up your social media presence through content marketing and promotion of your most important links. These links tell search engines that other industry experts think highly of your business, so it gives you a major boost in rankings.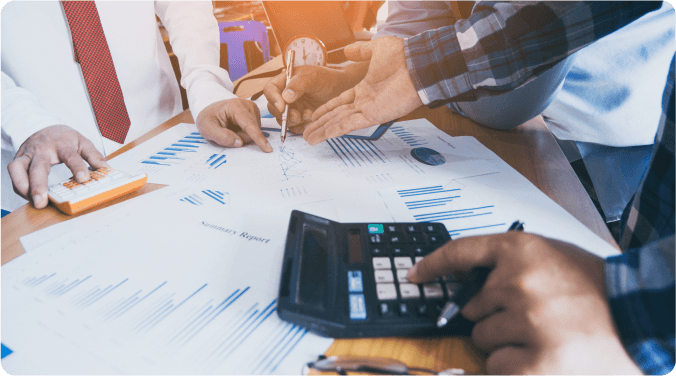 Our SEO company in Indianapolis can also help you optimize your website's technical aspects as required. This includes elements such as page loading speed, web hosting, and security. We find the best combination of services that meet your needs and provide you with a site that loads quickly and is very secure. In addition to increasing your Google rankings, this will improve your user experience and increase conversion rates.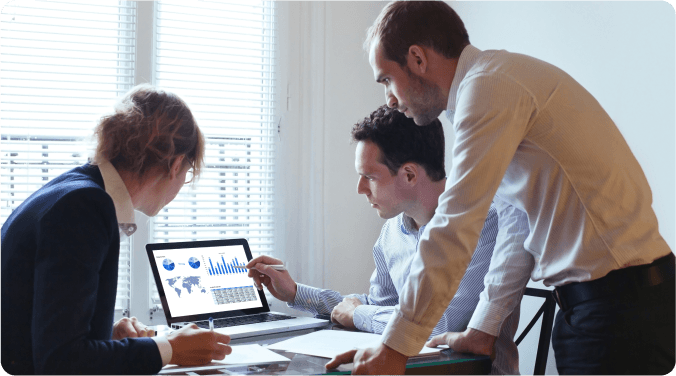 Benefits of Having a Strong SEO

Increased Leads and Conversions
The number one benefit from all of our services is increased leads and conversions. This happens in a variety of ways, including better rankings for your website in Google and other search engines. With increased organic traffic and exposure, we can boost your website's conversion rate and give you a source of new leads.
Building Trust With Customers
SEO also builds trust with customers. With more exposure, your website will rank higher in Google and other search engines. This can help you gain the trust of new customers who have never heard of your brand before. Building trust with potential customers is an important part of the sales process and we can help you achieve that quickly.
Brand Awareness
Another benefit is larger brand awareness. As your website achieves better rankings and increased exposure, more people will learn about your company. This can lead to a higher level of trust for potential customers and a large increase in conversions as well. Sales and marketing efforts can be streamlined or eliminated, allowing you to save money and increase your ROI.
Reporting And Analysis
SEO reporting and analysis help you make better decisions on a day-to-day basis about how to improve your website and increase conversions. Our team provides data-driven and transparent reports weekly and monthly. We will show you how your website is performing in multiple areas, including rankings, social media exposure, traffic growth, and more.
Why Choose GSC for SEO?
01

Real-Time Tracking
We keep track of all changes and optimizations in real-time, allowing you to view reports periodically. Our team will communicate with you as needed to keep you up-to-date on the changes we make and how those changes affect your website. We want you to know which services are working and why. This allows you to see the impact on your website and take advantage of our services right away.
02

SEO Consulting
We offer a full range of consulting services to make sure your online business is getting the most from your SEO. This can include advice on how to boost conversions for your website, help with email marketing and conversion optimization, and general consulting services. Our SEO consultant team in Indianapolis is experienced in multiple marketing channels and we want to share that knowledge with you so that you can grow your business. Our reports will help you make better decisions on a day-to-day basis about how to improve your website and increase conversions.
03

Dedicated Account Manager
We provide our clients with a dedicated account manager who will work with them to achieve goals. Our clients will have access to their team's SEO specialist at all times, allowing you to get the help you need whenever it's required. By working closely with each client, we can develop a deeper level of knowledge about their website and business that can help them achieve their goals.
04

CRM Integration
We are one of the top SEO agencies in Indianapolis and we make sure to integrate with your CRM so that the information you need to manage your online business is all in one place. This way, our team can report results directly into the software you are already using. This integration also provides advanced features like mass emailing, which allows us to send bulk emails for maximum impact or targeted campaigns that generate qualified leads.
Frequently Asked Questions
SEO is the process of making sure your website performs well in organic search engine results, usually through things like better on-page optimization. PPC ads are advertisements that you see at the top or on the side of Google's results. They are usually marked as paid ads and can influence your organic rankings slightly.
With our analytics reports, we show you the traffic generated by your website and how it is performing compared to before we started. We can also use Google Analytics to go a step further and track conversions from different keyword searches. This helps us measure how successful our services have been for you and what areas need improvement.
As long as you need. We offer contracts that allow you to cancel at any time if necessary. Our goal is to help your website rank higher for the keywords you want and we will do everything possible to achieve those results as quickly as we can. It is, however, advised to keep running SEO campaigns for at least 6 months to see your full result.
When choosing an SEO agency, it is important to talk with multiple companies and compare prices and results. You want to find an agency that specializes in your industry so that they can understand what needs to be done to achieve your goals. Ensure their services are consistent with your budget, requirements, and expectations of success.
You should also ask for references and search for reviews of past clients. Ask any agency you are thinking about working with how they measure success, how often they report on their progress, what techniques they use to improve rankings and other important factors.
There are many tools that an SEO agency will use to help you improve your website. An SEO company should have multiple tools available through multiple platforms so that you can access them whenever you need to make changes or want to check your SEO score. Some of the most common tools are- Google Analytics, Google Search Console, Google Tag Manager, Google Data Studio, Ahref, Screaming Frogs, SEMrush, Google Adwords.
Wish to get in touch?
Our team is always there to listen to you!
Contact Us